Cultural Diversity Research paper
Cultural Diversity
Diversity is exemplified as accepting, acknowledging, understanding, valuing and celebrating differences among people. The difference are in respect of age, race, gender, ethnicity, sexual orientation, spirituality and mental capability (Esty, et al, 1995). Is managing cultural diversity a fad or reality today?
Cultural diversity has been defined as representation in one social system, of people with distinctly different groups affiliation of cultural significance. Studies have shown cultural diversity in the workplace increases effectiveness. This essay we explore cultural diversity in the workplace.
5 Reasons Why Cultural Diversity Matters in the Business Environment.
According to Stephen R. Covey, strength lies in differences not similarities. The focus of diversity in the workplace lies in the promotion of individuality in an organisation, recognising every person bring in values, norms and traditions. Tolerant attitudes towards cross cultural differences.
Different qualities plugs the ability to seal the rift  for business: CEO's worldwide are looking at diversity as a way to address issues in the ever changing business world. Great diversified working environment  profits the organization as well as the economies they work in.  Research done by Catalyst a non profit organisation shows that increasing level of female employees could raise the GDP of a country to a significant rise. Not forgetting the social impact that comes with women being empowered.  
Differences in culture presents to us an inclusion to work, develop and learn from others: Learning from a different view of things is what a workforce gets from a cultural diversified team. Better decision making, high performance culture and enhanced innovation, may be created due to the inclusion of culturally diverse employees.
A business which has not embraced diversity will definately be left behind: Inclusion of "special groups" example the disabled is world wide being embraced. With use of technology this group of people are doing a better job than their abled counterparts. The special group may bring talents that will drive the organisation to their future successes.  Creation of equal opportunities for everyone. Skilled potential employees are likely to apply for posts in an organisation known for cultural diversity and inclusion.
It is strategic business unit: Business leaders are embracing this worldwide trend. The 18th Annual Global CEO survey  shows 85% of culturally diversified companies their bottom line is improving. Financial statements are including "a diversity dividend". Casting a wider net to connect with diverse people brings about crucial links with a broadened community.
Increased exposure: Employees from different cultures and backgrounds expose others to values which varies from their own. Multigeneral working environments have traditional workers learn new technology and process from tech savvy millennial generation. (PWC blogs.com)
Dimension of Diversity
The dimension diversity wheel shows the complexity of diversification. It shows how the behaviour change in other people ultimately drives our own behaviours, which in turn has an impact on the people around us.  The importance of the diversity wheel, shapes the impact of both the organisation and individual.
Diversity is majorly categorized in four layers
Personality Dimension: Simply regarded as internal personality. Includes individuals values, beliefs, likes and dislikes. The values refers to ideologies that specific individuals perceive to be most important. Beliefs are convictions that are held true, and they influence the action of the individual.
Internal Dimension: This dimension includes the first thing we see in other people. Their race, gender, and much more. This is an aspect of diversity which there is no control of.
External Dimension: This aspect of diversity involves issues we have control of.  Elements of external dimension shape both the organisation and individual. Some changes in this aspect would be education, marital status, income level, religion and  many other factors.
Organisational Dimension: This fourth layer of diversity concerns culture found in a business environment. These characteristics can either be unchanging or evolving. This may include hierarchical status, organisational set up or categorization of employees and much more. 
A more detailed version of the diversity wheel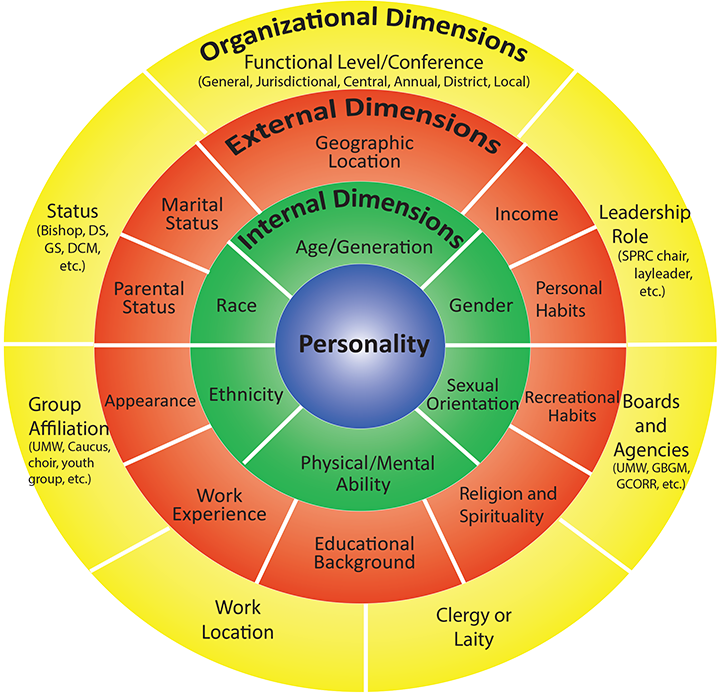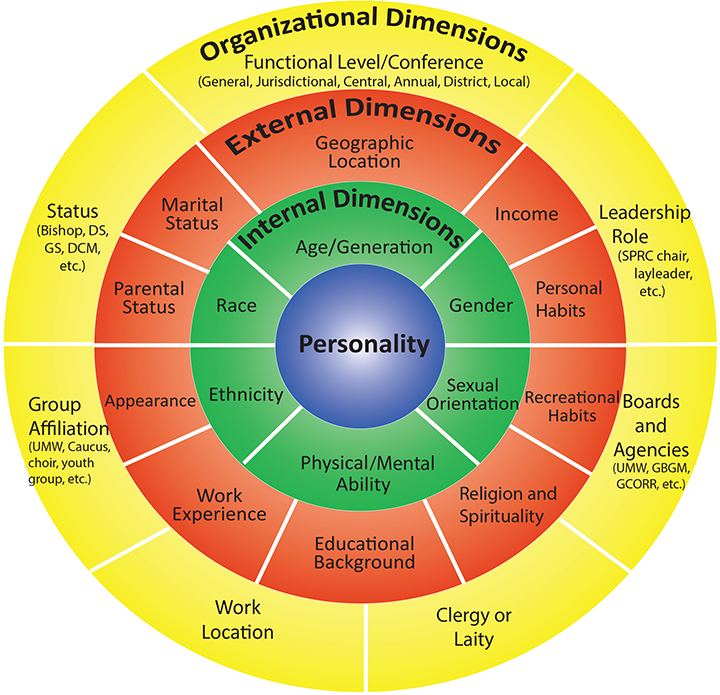 Understanding more the dimension of cultural diversity
For an organisation to reach its objectives and strategic goals, there is need to create a positive work environment where the similarities and differences of individuals are valued. It will be worthwhile for organisations to maximise on the benefits of cultural diversity.
The seven dimension of culture was created by Trompenaars and Hampden – Turner (1997). This theory was created to understand and manage cultural differences. According to Tangient (2015) this theory focuses on the way people think, future expectation, behaviour using three basic yardsticks time, environment and relationship with others. He ascertains that culture will solve people's problems, because culture revolves around orientation and behaviour.  This models helps you understand people from different backgrounds. This will prevent misunderstanding and enjoy a cordial working relationship with a group of diverse people.
Universalism versus particularism: This dimension sets the standards in which relationships are measured. Universalists are inclined to follow rules no matter the situation. Typically to them right is right and wrong is wrong. A contract, commitment or agreement is fixed.
A particularist perceives the circumstance more important than the rules. To them  a contract is the basis of an agreement, rather than being fixed for all times, because circumstances may change.
Individualism versus communitarianism:  Individualism gives people freedom to contribute collectively as they wish. Decisions are made on the spot without consultation.
Communitarians believe the quality of life improves when they protect one another. Decisions are people oriented.
Specific versus diffuse: Specific dimension puts the job first, contractual terms are put before personal  concerns.
Diffuse takes time to weave both personal and the job. You can overlap personal and functional aspects and spend time outside working hours with your colleagues.
Neutral versus emotional: For emotional aspect one is allowed to display their feelings in business dealings and it is acceptable.
Neutral dimension teaches people that it is wrong to overly show emotions in business dealings.
Achievement versus ascriptions: Some societies accord status according to performance.
Ascribed status is accorded by virtue of kinship,  social standing, gender, connections and much more.
Sequential time versus synchronous time:  Different cultures have relative importance to the past/present/future. They sequentially view time as a series of events.
People adopting the synchronous time view past, present and future as being interrelated. They usually do things all at once.
Internal direction and outer direction: This dimensions put the value people put in the environment. Internal mechanistic people view themselves as the point of departure for determining the right direction.
The opposite is when focus is on the environment rather than themselves.
Conclusion
Diversity creates dimension in the world. Companies should not shy away from having a culturally diverse workforce. The benefits have been clearly seen to outweigh the small challenges an organisation would have faced.  Further advances of globalisation has promoted a view of a cosmopolitan mindset in organisations whose vision and objective is a global outlook.
There is a paradigm shift in the workforce by incorporating and hiring couples, single parents, gays, and another aspect of diversity is telecommuting where a company may outsource skilled workforce worldwide, but work remotely.
The gender gap needs to be lessened so that we may have more women included in the workforce. Cultural diversity increases profit without a doubt. Research by fortune 500 has shown a diverse target audience trusts a brand which is from a culturally diverse organisation. One example for a company doing extremely well is "google" Its diversity motto sums it all "Never judge a search engine by its interface"
Need a similar research paper? Order cheap research papers for sale
Comments Off

on Cultural Diversity Research paper

Tags: